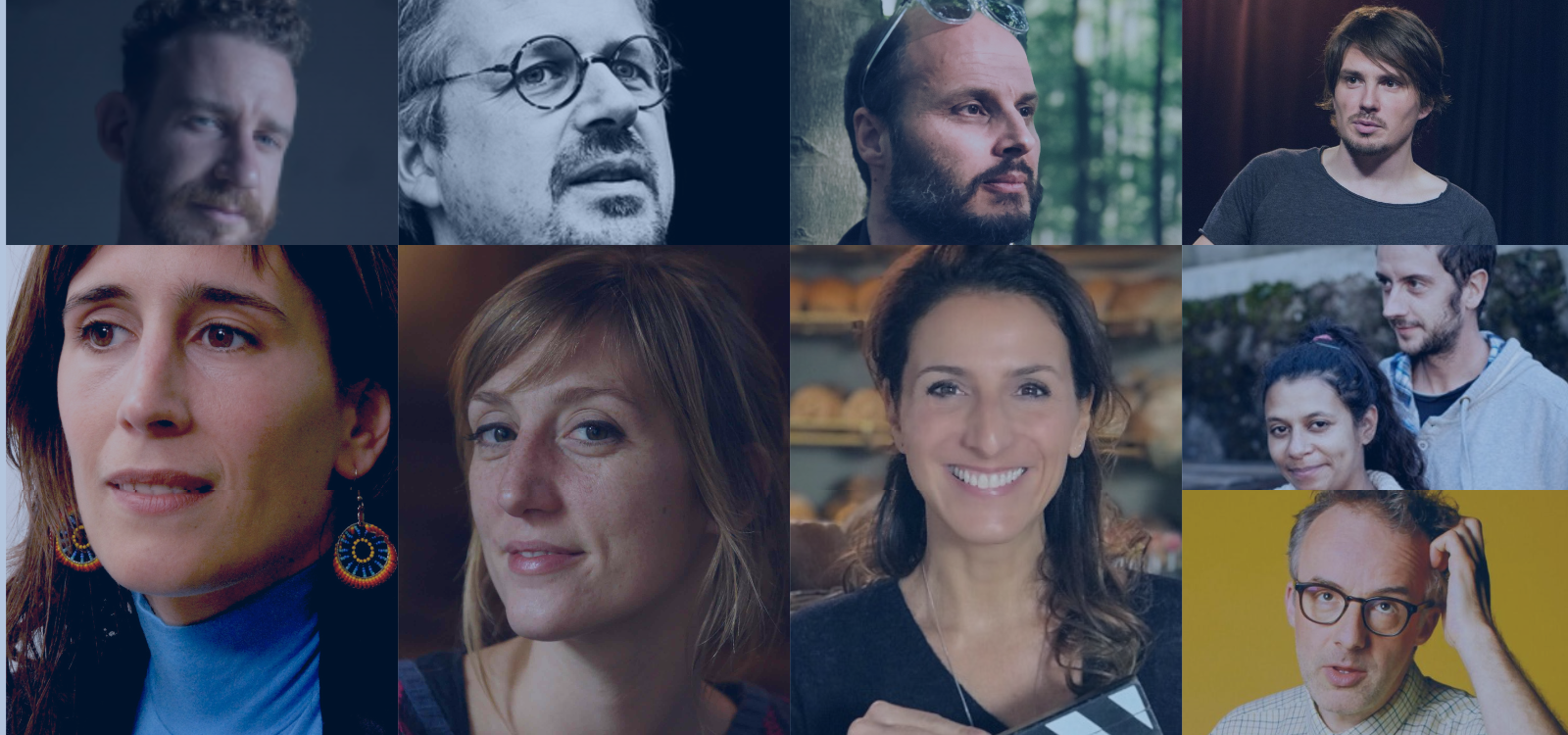 A tight selection for the 21st screen.brussels session
The 21st screen.brussels session invested around €1 million in the production of seven projects, which should lead to returns of more than €9 million in audiovisual spending in the Brussels-Capital Region. The selected projects included three live-action feature films, one animated feature film, one documentary, and two television series. Here is a look at the selection.
Three live-action feature films
Maldoror
Feature film produced by Frakas Productions (Liège) with The Joker Films (France), directed by Fabrice du Welz (Brussels), who co-wrote the script with Domenico La Porta (Liège). Following Inexorable and Adoration, the director is back with a noir crime thriller, including a script that is loosely based on a true story but has not yet been revealed. Led by Fabrice du Welz, the team is made up of 21 Brussels technicians, including four department heads, with the majority of the post-production being done in Brussels (303/363 days). The project will also draw on the experience of Stempel (Anderlecht) for image editing, Alea Jacta (Saint-Gilles) for sound post-production, Studio l'Équipe (Evere) for laboratory work and sound effects, and Cobalt (Brussels) for colour grading. The cast, to be announced soon, will feature Brussels-based actors in several minor and supporting roles.
Reflet dans un diamant mort
Feature produced by Kozak Films (Anderlecht), Savage Film (Zaventem), Tobina Film (France), Les Films Fauves (Luxembourg) and Dandy Projects (Italy), directed and written by Brussels duo Hélène Cattet and Bruno Forzani (Let the Corpses Tan). John D, a septuagenarian living in a luxury hotel on the French Riviera, is intrigued by his female neighbour who reminds him of the wild times spent there during the 1960s, when he was a spy in a changing world full of promise. One day, his neighbour mysteriously disappears leaving John to face his demons again: are his former adversaries back to sow chaos in his idyllic world? Partly shot and post-produced in Brussels (5/40 days of filming and 80/212 days of post-production), this genre film will employ a team of 13 Brussels technicians, including three department heads, as well as service providers Boxon (Ixelles) for sound post-production and Studio l'Équipe (Evere) for laboratory work. The cast will include actors from Brussels in supporting roles.
TKT
Feature produced by Beluga Tree (Brussels) and Deal Productions (Luxembourg), directed and written by Solange Cicurel (Brussels). Following her successful comedies Don't Tell Her and Adorable, the Brussels-based writer is back with a fantasy dramedy. Confident and popular sixteen-year-old Emma is in a coma. Why? What happened to her? To find out, she becomes an invisible "ghost" for a few days, where she can see all, hear all, and go back into her memories to rebuild her story. The vast majority of the film will be shot in Brussels (20/27 days), where a large part of the post-production (150 days) will also take place. The project will have eight Brussels technicians, including the director and three department heads. It will be supported by Eye-Lite (Schaerbeek) for the camera work, Loom (Brussels) for image post-production and VFX, The Green Shot (Uccle) for green management, and Bring It On Catering (Anderlecht) for the catering. Émilie Dequenne will lead the cast (Rosetta, Close, See You Up There, Our Children, etc.).
One animated feature
Marcel et Monsieur Pagnol
Animated feature co-produced by Walking the Dog (Genk) Onyx Films, What the Prod (France) and Bidibul Productions (Luxembourg), directed and written by Sylvain Chomet (France). Following the success of The Triplets of Belleville and The Illusionist, Chomet is back with a biopic-type work about the legendary Marcel Pagnol. In 1955, Marcel Pagnol was a famous filmmaker. When ELLE magazine asked him to write a column about his childhood, he saw an opportunity to get back to where his career began: writing. After being affected by the mixed reviews of his latest plays and realising that his memory is failing him, Pagnol begins to doubt himself. Until one day, little Marcel – the boy he had once been – appears to him, just like magic. Together, they explore his past and relive his most wonderful encounters and most cherished memories. The entire production of this ambitious project (365 days) will take place at the Brussels Animation Valley in the Squarefish and L'Enclume studios (Molenbeek), with help from Studio Monev for motion capture, Cat on Wheels (Koekelberg) for equipment and TSF (Schaerbeek) for grip rental. In all, the project will employ some 30 animation and CGI artists.
One documentary
Les Snuls
Feature documentary whose entire title is Les Snuls, de toute façon, dans 20 minutes vous aurez tout oublié. Produced by Kwassa Films (Brussels-Ville) and directed by Brussels' Guillermo Guiz and Gilles Dal. Entirely shot in Brussels over 12 days, this documentary by Guiz and Dal addresses the phenomenon of Les Snuls, a group of Belgian comedians who were all the rage on Canal+ Belgique some 30 years ago, and whose work caused a real space-time disruption within the comedy world. Their answer to the question 'Can we laugh at everything?' is 'Yes, definitely, yes'. Their radical and uncompromising punk philosophy made fun of everything. Almost entirely a Brussels affair, this project's entire post-production will be done in Brussels (40 days) and will employ the talent of six Brussels technicians and the expertise of Boxon (Ixelles) for sound post-production, Chocolat Noisette (Brussels) for image post-production, and Audiomania (Schaerbeek) for sound equipment. Besides the comedy duo taking up the direction, expect cameos from fellow comedians and performers who have followed in the footsteps of Les Snuls.
Two television series

 
Pandore, Season 2
A series produced by Artémis Productions (Schaerbeek), directed by Brussels' Vania Leturcq and Savina Dellicour, who co-wrote the script with Anne Coesens (Brussels). Two years after the events of the first season, Mark is the Minister of Justice and Claire runs her own law firm. In this new season, Claire will have to fight legal battles on two fronts. The first is to defend the young whistleblower Alix, who has exposed the violations of the GAÏ_APP Corporation and finds himself out of his depth in a legal whirlwind. The second is defending Hélène in her divorce from Mark. Just like in Season 1, Brussels is treated like a character at the centre of the story. For the most part, the filming will be done in Brussels (50/60 days), and the vast majority of the post-production will also be done there (473/606 days). The team includes some 40 Brussels technicians, with support from service providers such as Les Productions du Radiant (Schaerbeek) for image editing, Boxon (Ixelles) for sound editing, colour grading and music, as well as KGS and Eye-Lite (Schaerbeek) for grip rental and electronic equipment and cameras respectively. This abundantly Brussels cast is led by Anne Coesens, with Yoann Blanc, Myriem Akheddiou, Mélissa Diarra, Salomé Richard, Vincent Lecuyer, Mathilde Rault, ­­ and Edwige Bailly, as well as Peter Van den Begin (Flanders).
Putain
A series produced by Panenka (Antwerp) and directed by Deben Van Damme (Brussels), who co-wrote the script with Brussels' Frederik Willem Daem and Gorik van Oudheusden (aka Zwangere Guy). Putain is a ten-part drama series that tells the full story of the teen years of Gorik and his friends Snokkie, Rian and Jolien. Whether it's about escapism through alcohol, the consequences of a dismissive parent, a desire for success or the conflicts that come with adult responsibilities, each friend has a different background and problems, allowing the series to paint a broad picture of what it means to grow up in a big city like Brussels. An autobiographical project headed and written by hip-hop artist Zwangere Guy, the series spend have 62/70 filming days in Brussels, the city being an integral part of the script. The team will have eight technicians, including three Brussels-based department heads, and help from Cine Qua Non (Brussels) for grip rental and Pandemie (Anderlecht) for the trailer. While Zwangere Guy himself has a minor role, the main cast will feature Brussels actors.
Brussels talent behind the camera
It should be noted that nine of the ten directors for the selected projects are from Brussels: Guillermo Guiz and Gilles Dal (Les Snuls), Fabrice du Welz (Maldoror), Vania Leturcq and Savina Dellicour (Pandore, Season 2), Deben Van Damme (Putain), Hélène Cattet and Bruno Forzani (Reflet dans un diamant mort), and Solange Cicurel (TKT). Four of the ten directors are also women.
The majority of projects are Belgium and Brussels-based
Out of the seven projects, four have been produced by a Brussels-based company: Kwassa Films (Les Snuls), Artémis Productions (Pandore, Season 2), Beluga Tree (TKT), and Kozak Films (Reflet dans un diamant mort). What's more, five of these projects are either mainly or entirely produced in Belgium: Les Snuls, Maldoror, Pandore, Season 2, Putain, and TKT.
Two very Brussels series
For both Pandore, Season 2 and Putain, Brussels is at the centre of the story and treated like a character in its own right. As a result, the project selection will highlight the streets, vibes and iconic landmarks of Brussels with two major projects, one in French and one in Dutch.
Significant returns for Brussels' economy
By investing €1.1 million in the seven projects selected during this 21st session, more than €9 million of spending was generated to support the Brussels audiovisual sector, in the form of wages and orders for local businesses. In other words, the returns for the Brussels economy will be €8 per euro invested.