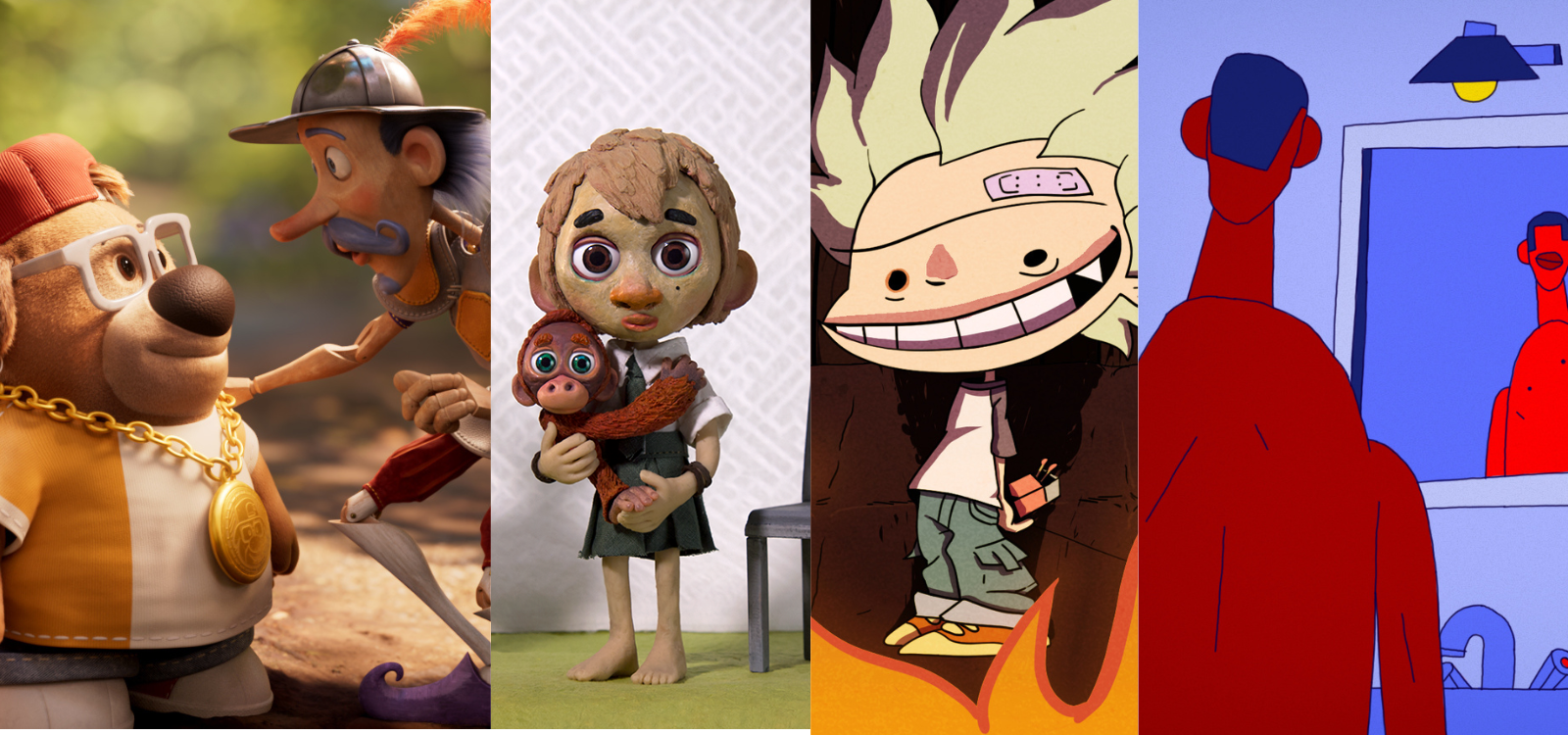 Great success for Brussels Animation Valley during the 20th screen.brussels session  
For its 20th session, screen.brussels has invested almost €1 million to help produce nine projects, which should generate more than €18 million in audiovisual spending in the Brussels-Capital Region. With four animation projects, two feature-length films and two web series, the selection makes the most of the studios and talent in Brussels Animation Valley. The nine projects include four feature-length films, one series, three web series and one documentary. Here's a look at the selection:  
Four animation projects: two feature-length... 
The Inseparables  
The Inseparables is a feature-length animation co-produced between nWave Pictures (Forest), Octopolis (France) and A Contracorriente (Spain). It was directed by Jérémie Degruson (Wallonia) and co-written with Alec Sokolow (USA), Joel Cohen (USA), Matthieu Zeller (France), Bob Barlen (Canada) and Cal Brunker (Canada).  A comedy buddy film that follows the misadventures of a runaway puppet with an overactive imagination and an abandoned stuffed animal who needs a friend. They make their way across Central Park and, against all odds, team up for an epic New York adventure all about friendship. This feature-length animation will be entirely made in Brussels, as nWave Pictures will produce almost everything in their Brussels-based studio (Forest), aside from the writing, voice acting and sound recording. This project will have nine chief operators and around 30 Brussels-based technicians, with a soundtrack by Brussels band Puggy.  
Sauvages !  
Produced by Panique! (Saint-Gilles) with Haut et Court (France) and Nadasdy Film (Geneva), directed by Claude Barras and co-written with Catherine Paillé (Switzerland). In Sarawak, on the island of Borneo, street orphan Kéria rescues a baby orangutan whose lineage is about to be decimated. Too busy nurturing their mutual affection, Kéria neglects her young cousin Selaï, a forest nomad who has moved into Kéria's home to escape the conflict between his family and the logging companies that are destroying his land. He ends up running away, taking the ape with him. Setting out in search for them, Kéria ends up reconnecting with those who knew her mother and discovers the truth about where she came from. Part coming-of-age story, part realistic fairy tale, this stop-motion feature-length animation is for a younger audience. All of the post-production (130 days) is being carried out in Brussels, and 25 of the technicians are also local. Several Brussels-based companies are also involved, such as Alea Jacta (Saint-Gilles) for the picture and sound post-production, ADK-Kasting (Ixelles) for casting, Cobalt Films (Brussels) for lab work, Mr et Mme Productions (Brussels) for the credits, and Stempel (Anderlecht) for picture editing. The cast includes Brussels-born Ingrid Heiderscheidt in a supporting role alongside a number of famous names (to be announced soon). 
...and two web series  
Ante Chris, Season 2 
Produced by Squarefish (Molenbeek-Saint-Jean), directed by Brussels-based Bruno Chaix and co-written with Belgian comic book writer Jean-François Baudot. If you thought you could get rid of him by calling Ghostbusters, an exorcist or a demonologist, think again... Hide your cats and get your grandparents to safety! Chris is back at the Saint-Molard de Mimolette orphanage – much to the dismay of Sister Marceline. And if he knocks on your door on Halloween night, give him all the sweets you have! Ante Chris is a short animation series, described as a fun family comedy with horror film references. The series features Chris, an eight-year-old boy with somewhat satanic leanings. This project involves nine Brussels-based technicians and the company Chocolat Noisette (Brussels City) for the sound post-production. The 100 days of filming and post-production will also be carried out in Brussels. Aside from YouTuber GuiHome (real name Guillame Wattecamps), the entire cast is also from Brussels: Pablo Andrès (Entre la vie et la mort, Losers Revolution), Marcha van Boven and Sophie Landresse.  
Boys boys boys  
Produced by Take Five (Saint-Gilles) with Melting Productions (Productions), this animated web series is directed by Valentine Vendroux (France), Clawdia Prolongeau (France), Marie Villetelle (Germany) and co-written together with Florent Gimberteai (France) and Clément Treboux (France). Boys boys boys aims to seek out a well-known animal: it's hairy, it's at the top of the food chain, possesses power, money and sometimes guns (though often has none of these things), and is much maligned these days... man (with a lowercase 'm'). Part cartoon, part documentary, this series analyses male behaviours, showing all their permutations while avoiding shutting them in a binary masculine/feminine model. This web series will be available on the Arte Miam! streaming platform. Distribution will involve six technicians from the region, as well as the support of animation studio Carbone 14 (Saint-Gilles) for various audiovisual services. This project was mainly completed in Brussels (90 days), all while striving to remain eco-friendly during filming by appointing a green manager (David Grançon).  
Two live-action feature-length films 
Beats of love  
Feature-length film produced by Savage Film (Zaventem) with Rococo Content and PRPL (Belgium), directed by Raf and Jan Roosens, and co-written by the directors along with Bert Van Dael (Brussels). Beats of Love tells the story of 13-year-old Gloria, whose parents, a former successful music duo, are getting a divorce. She has a difficult relationship with her strict father and worships her mother like a fan would their idol. Gloria tries hard to support her mother's ambitions to be a DJ, and gradually loses herself in a toxic and enthralling world. Beats of Love is a musical drama about a teenage girl's unconditional love for her eccentric mother.  

This project will be almost completely produced in Brussels, with 26/30 of the days filming and 56/76 days of post-production. A lot of the film's action will be shot in Brussels, so we may recognise some of the filming locations such as nightclubs (Fuse, Zodiak), Athénée Robert Catteau secondary school, the Matonge Quarter, or the wilderness of Josaphat Park (Schaerbeek) and Scheutbos (Molenbeek). The team will employ the talents of eight Brussels technicians, including three chief operators, along with the expertise of Studio L'Équipe (Evere) for lab work and Tarara (Laeken) for the technical equipment. Like the project itself, the cast will be star-studded, with the leading roles filled by Veerle Baetens (Mother's Instinct, In the Name of the Land, Tabula Rasa, Alabama Monroe), and her daughter Billie Louise Vlegels, and with Brussels native Zwangere Guy making his acting debut.  
Largo Winch, le prix de l'argent
Produced by Versus Production (Liège) with Pan-Européenne (France), this feature-length film is being directed by a Brussels-based team, with Olivier Masset-Depasse directing and writing the screenplay, co-written with Giordano Gederlini, adapted from the famous comic book by Jean Van Hamme. Barely a few months after the disappearance of his son under tragic circumstances, Largo Winch witnesses the suicide of the founder and boss of Wingpower, a company that is part of his own multinational corporation WINCH. Largo is in shock. He knows that the suicide is linked to the disappearance of his son Noom, and that if he finds the criminals behind it, he'll find his son. More determined than ever, Largo sets out in search of them, unaware that his quest will lead him to hell and back... A modern and punchy action film that promises a jet-setting adventure with a tragic undercurrent. It will be filmed in Belgium, Thailand and Bulgaria and a substantial team will be employed in Belgium, made up of 37 Brussels technicians such as Sophie Casse as production manager, Pierre Renson and Maude Piette as set decorators, and Olivier Struye as sound engineer. A number of other services will also be involved during filming in Belgium, including the technical equipment, stage direction, costumes, makeup, machinery, green manager, and so on. 

For post-production, 540 days of which will be completed in Brussels, Jérémy Hassid has been appointed as sound editor and François Dumont as assistant sound editor, with Delphine Mathieu in picture editing and Anaïs Letiexhe coordinating postsynchronisation. The film also employs several Brussels-based companies, such as Boxon (Ixelles) for editing, Studio l'Equipe (Evere) for postsynchorisation, Audiosense (Evere) for sound equipment rental, PS Ma sœur (Uccle) for sound post-production, Tour de Tête (Uccle) for wig rental and KGS (Schaerbeek) for machinery rental. The cast features Tomer Sisley Don't Look Up, Balthazar, Messiah,) in the titular role, his third reprisal for the Largo Winch saga. 
One TV series and one web series
Arcanes 
Produced by Beluga Tree (Brussels City), directed by Michèle Jacob (who directed Les enfants perdus, also supported by screen.brussels) and co-written with Ben Dessy. The year is 1995. Following the dissolution of MTLK Acier, its director, Clémence Rosier, finds out the reasons behind the "accidental" death of her son two years prior. This murder mystery series brings together a Brussels-based director and Belgian screenwriter, and will be almost entirely post-produced in Brussels (with picture work at Loom, a Caviar studio) and also partially filmed there (180 of the 250 days). It will employ 45 Brussels-based technicians, and use equipment from Eye-Lite (Schaerbeek). The cast includes the talented Marie Gillain (France – Coco Before Chanel, Goliath, Vicky and Her Mystery) in the starring role as Clémence, with Brussels-based Michelangelo Marchese (Belgium – Let the Corpses Tan, Melody, Le serpent aux mille coupures) co-starring.  
Salle des Profs  
This TV web series produced by Octopods Films (Brussels-City) with the RTBF, is directed by Christophe Bourdon (Ixelles) and co-written with Pierre-Yves Wathour (Schaerbeek). Salle des profs is a short series that follows the daily lives of two young thirty-somethings, Simon and Samia, who are best friends, colleagues, and exes. Surrounded by their colleagues, each one crazier than the last, they will take you into a place that is off-limits to the outside world - a place of putting the world to rights and losing the plot, teasing and arguments, fights and peacemaking, love and hate. (Welcome to the teacher's lounge!) This is a bottle-style comedy series entirely filmed in studio. Likewise, the 20 days of filming will take place entirely in Brussels, and will involve 25 Brussels technicians and local company Boxon (Ixelles). The cast includes Jean-Luc Couchard and Renaud Rutten (both Belgian).  
One documentary  
[Confidential title] 
A documentary produced by Alizé Production (Uccle) with Tempo Allegro (Uccle) and directed by Brussels-based Nicolas Delvaulx has also been selected, but its content is still confidential at this time. For this project, almost all of the filming (15 days) and the post-production (65 days) was completed in Brussels. The team is also primarily Brussels-based (five technicians), along with the support of AdnStudio (Schaerbeek) for the picture editing, Clair-Obscur Productions (Ixelles) for the lighting, Ld Vision (Auderghem) for the photo and image directing and Twins (Etterbeek) for the sound. 
Brussels Animation Valley is earning its stripes 
Of the nine projects, four of them are animated: the two feature-length films The Inseparables and Sauvages !  and the two web series Ante Chris Season 2 and Boys Boys Boys. In recent years, the studios in the Brussels region are helping to boost the reputation of Brussels Animation Valley on a European scale by taking on ambitious and high-profile projects. 
Three web series 
A third of the supported projects are web series: Ante Chris Season 2, Boys Boys Boys and Salle des profs. This increasingly popular format comes at a time where the consumption of audiovisual products is constantly changing, as reflected by this selection.
Ecodynamic responsibility in the sector 
For the second time, the productions that submitted funding documents had the opportunity to receive bonus points if they demonstrated a more environmentally responsible approach. One bonus point is awarded for having an environmental consultant working on the project and for obtaining an ecodynamic label for the production company. In doing so, four of the projects selected had an environmental advisor on board, while a dozen Brussels production companies are currently awaiting to be accredited with the Ecodynamic Enterprise Label awarded by environment.brussels. 
Significant returns for the region's economy  
The €996,000 investment in the session 20 projects will generate almost €18 million in spending that will boost the Brussels audiovisual sector – both in salaries and commissions for the companies. In other words, for every €1 invested in the region, €8 will go back into the Brussels economy.*