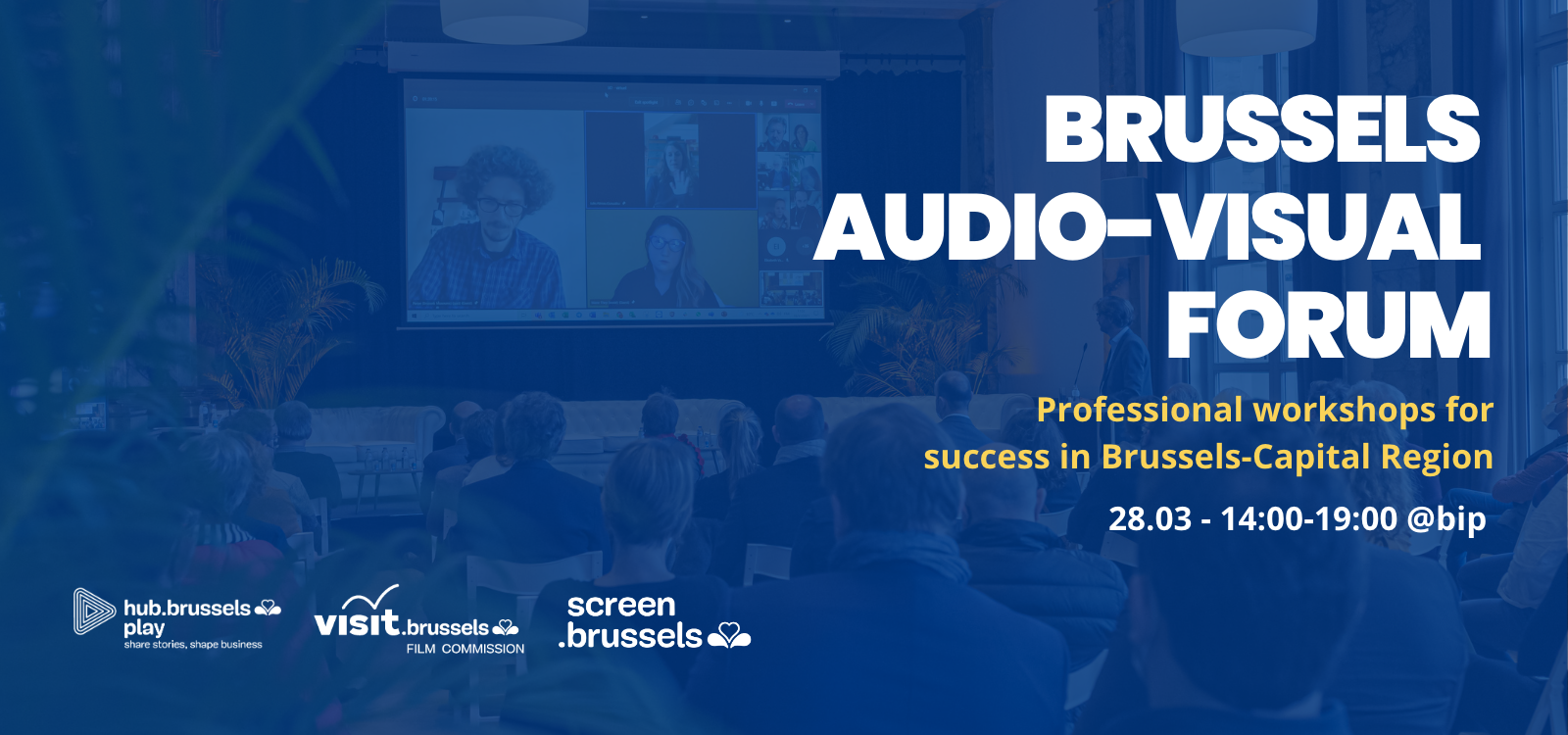 Brussels Audiovisual Forum
Professional workshops for success in the Brussels Capital-Region
Are you a professional in the sector, and/or do you manage a company in the audiovisual industry in the Brussels Region? Are you often confronted with questions related to the development of your activity/business? This Forum is for you! The Brussels Audio-visual Forum has been designed to respond to the obstacles faced by audiovisual professionals and entrepreneurs in Brussels. 
Are you looking for new offices to rent or buy? Do you want to have a better perspective on the financial future of your structure? Do you want to hire a new employee and are looking for regional subsidies to do so? Would you like to innovate in terms of business model or digital image? Do you have legal, tax or legal questions related to your business? Come and meet us at the Forum: we are here to inform you, accompany you and support you in your project!
The Forum will take place in two parts:
All the regional services will be briefly presented to you so that you are informed of all the services that exist to support your business and your audiovisual project. You will then have the opportunity to meet the experts of your choice during "speed meetings" of maximum 15 minutes where you can ask your questions. Please note that this first meeting does not automatically lead to further support.
This regional initiative is the result of close collaboration between the play.brussels cluster and its privileged partners screen.brussels and the visit.brussels Film Commission.
*In the presence of the Secretary of State for Economic Transition and Scientific Research, Barbara Trachte
Programme
14.00-14.15 Welcome
14h15-15h00 Info-session | play.brussels with hub.brussels
14h15-14h45 Info-session | Film commission visit.brussels FR (workshop on the new online form to request filming authorizations)
14h45-15h15 Info-session | Film commission visit.brussels NL (workshop on the new online form to request filming authorizations)
14h30-16h30 Speed meetings (expertise to be confirmed) :
hub.brussels Business : financial models and investments
hub.brussels Subsidies : regional grants for (new) companies
hub.brussels EEN : European partnerships and programmes
hub.brussels Export : international actions
play.brussels cluster : support, networking, visibility
screen.brussels fund : financing of projects
visit.brussels Film commission : filming and sets in the Brussels region
finance&invest.brussels : loans and investments
CinEcoLab : green collaboration between audiovisual schools
17h00-19h00 Networking drink
Details of the speed meetings
play.brussels @ hub.brussels
What is a cluster? What can we do to help your business? 
Our mission is to provide individual and collective support to entrepreneurs on various economic subjects. We (co)-organize collective trainings, networking events and assist in prospecting for new clients and partners, at numerous trade fairs and events both in Brussels and abroad. The sectors covered by the cluster include: film, audiovisual contents, immersive narratives (AR-VR), podcasts, and video games.
European programs @ hub.brussels
Which European programs are available through hub.brussels? How to have access?
Our advisors can direct Brussels entrepreneurs to the following programs and networks, while helping them to position their project, search for partners and identify opportunities.
Enterprise Europe Brussels (EEB), part of Enterprise Europe Network, connects SMEs with pre-qualified and selected international technology and business partners in over 50 countries.
NCP Brussels is the national contact point for the European Research & Innovation program Horizon Europe, and helps looking for partners either as project coordinator, consortium partner or single beneficiary.
Erasmus for Young Entrepreneurs - EYE is a cross-border exchange program where future entrepreneurs work with experienced entrepreneurs for 1 to 6 months.
Business expertise @ hub.brussels
What can the Business and finance experts at hub.brussels do for you?

How to work with us?
The experts on Business questions are part of a larger team that can also help companies with urban & environment permits, digitization, transition and legal matters. The team is a good example of transversality as it collaborates proactively with numerous partners, both within hub.brussels and externally: incubators and accelerators, private funding sources, consultants, transition stakeholders, public partners…
Our specialties:
Business strategy (launching & development)
Company financing (Equity, Lending, investors and others)
Bank credit mediation
Regional subsidies @ hub.brussels
What can the regional subsidies expert at hub.brussels do for your company?
As expert on regional economic subsidies, I am part of the larger Business team (that can also help companies with financing strategies, urban and environment permits, digitization, transition and legal matters). I work with public partners, Brussels Economy & Employment mainly, to identify the regional premiums and subsidies that are best suited to your – future or existing – company or economic project.
screen.brussels
How can I finance my film, series or other audiovisual project in Brussels?
screen.brussels offers financial support to audiovisual productions that carry out all or part of their audiovisual expenditure in the Brussels-Capital Region. Our objective is to generate a structuring effect on the audiovisual industry in the Brussels-Capital Region for the benefit of all European film industries. Each year, screen.brussels organises three project submission sessions.
Film commission @ visit.brussels
How to film in Brussels?
The Film Commission is THE Brussels Region's film office for film crews, location scouts and location managers. We inform you, guide you and help you obtain filming permits and parking reservations in the Brussels Region. We guide you in your search for sets and specific filming locations and can put you in touch with contacts and help you move forward with your projects. We also support green shooting initiatives through a coaching program.
finance&invest.brussels
What regional financing solutions exist for my company?
Finance&invest.brussels is a public interest company that facilitates and completes the financing chain for value-creating companies in the Brussels Region. Our solutions are aimed at start-ups, scale-ups and SMEs as well as very small businesses, social enterprises and cooperatives established in the Brussels-Capital Region.
How? By providing concrete solutions to the financial needs of entrepreneurs, in the form of loans, equity investments or guarantees at key moments in the existence of their company: creation, development, innovation, internationalisation, environmental transition, takeover and transfer.
St'art Invest
St'art investment fund is active in the cultural and creative sectors, and supports the audiovisual sector through loans:
Different types of loans for the creation and growth of companies, aimed at any SME mainly active in audiovisual production.
Loans for the pre-financing of cash flow, aimed at the same companies, but as a short-term advance for a specific charge, either a cultural production – the Production Cash Flow Loan; or a clearly defined charge for the company – the Company Cash Flow Loan.
These two loans were launched on 13 March 2023 thanks to the InvestEU program.
CinEcoLab
CINECOLAB is a project that aims to rethink cinema with regard to climate & social issues, through the networking of 4 schools: IAD, HELB, INSAS and La Cambre. The aim is threefold:
to create a platform gathering resources improving the sustainability of filming practices;
to organize a training course to train the teaching staff on these issues;
to organize training courses on green management of a film shoot for students and film professionals, in order to obtain a certification recognized by screen.brussels, Wallimage and the Centre du Cinéma.
BRUSSELS AUDIO-VISUAL FORUM
When
28 March 2023
From 14:00 to 17:00 followed by a drink until 19:00
Where
BIP - Brussels Info Place
Rue Royale 2-4, 1000 Brussels